Over the past 15 years, India has witnessed an exceptional growth in the real estate sector. With more urbanisation, construction of smart cities, changing lifestyle due to emerging middle class are a few factors that have given a push to new building technologies and materials. uPVC (unplasticised polyvinyl chloride) is one of such building material that has gained attention, as replacement to other traditional materials, uPVC is a low maintenance yet effective material in making windows and doors.
In the last couple of years, we have seen increasing demand of uPVC windows and doors due to the host of benefits uPVC offers. Now the consumer is well aware of the fact that uPVC is an outstanding material for windows and doors as it performs exceptionally in diverse weather conditions. uPVC windows and doors provide efficient thermal insulation and help in energy conservation. Not only this, uPVC windows provide high sound insulation with properly fabricated windows and installations. uPVC windows and doors are available in various designs and styles that can match any modern architecture and can be installed in any kind of building, be it villas, high-rise apartments, offices, hotels, hospitals, etc
They are also available in various colour options that can add value to your home interiors/exteriors. Surprisingly, you don't need to be bothered about the durability, thanks to its uPVC compound properties – window and door profiles are termite resistant and practically last forever.
uPVC is considered to be an intelligent investment and excellent buying decision as they do not require any repainting and maintenance. They do not rot, warp or corrode, profile colour remains same in any weather/climate conditions, be it summer, winter or monsoon. These window and door systems have proven their effectiveness even in tropical and salty coastal climates. Windows and doors made of uPVC are environmentally friendly products as there is no wood in it and can be recycled. There are companies which manufacture the profiles with their unique compound material which is 100 percent lead free and supports sustainability.
The current Indian window and door (all material) market is around INR 14,000-15,000 crore and the market share of uPVC window and door profiles is about 8-10 per cent. As per report by Ken Research, over the next 10-15 years uPVC window and door market is expected to grow by 30 percent with new and replacement sales, major drivers of this growth would be large high-rise apartments in expanding metro cities.

"UPVC doors and windows are the best in both looks and durability, it's been the choice of the people world wide from quite while."

"If you want something unique and attractive in your home, then you should go with UPVC doors and windows."

"Simplicity is the best attractivity, said that by a famous designer I also believe the same with house designing and for the same I prefer UPVC products over others."
Windows and doors made of uPVC are environmentally friendly products as they can be recycled easily
India is a diverse country with various cultures, lifestyles, architecture and different climates. Here you can see summer, monsoon and winter at one place in a year. Every place requires a different architecture of home as per the local weather conditions. The north region faces harsh cold and summer, mostly north eastern region is of tropical condition, and west and south remains hot and faces high rain during monsoon. A couple of years back there was no single material for their window and door that could remain effective throughout the year. But not anymore, availability of uPVC is an answer to this diversified window and door requirements, providing relief to the fenestration consultants who used to struggle against questions like thermal insulation, water tightness, sound resistance, look and appearance and durability. Now they are in a position to recommend world class products, i.e. uPVC to the consumers who are looking for comfort, better lifestyles at competitive prices. uPVC windows and doors come in a variety of styles like casement (outward and inward open), tilt and turn, sliding, slide and fold, lift and slide, top hung, etc. which complement the modern architecture in a unique way.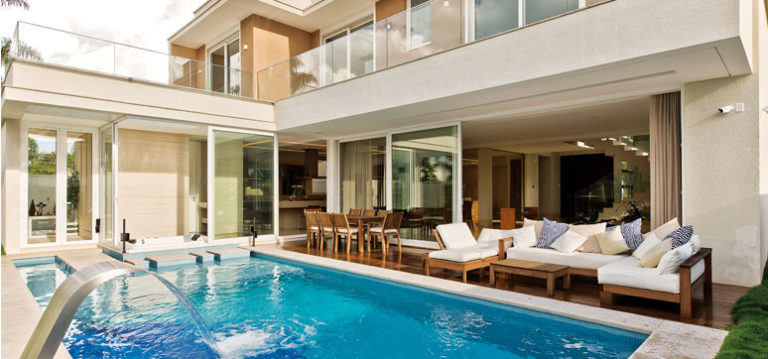 We all know that overall Indian window and door industry is not organised and there is no specific standardisation and guidelines, uPVC is not different from this. Growing popularity and demand of uPVC windows and doors have given opportunities to many local and Chinese companies to venture into this industry. As India is a price sensitive market, these companies often compromise on quality to earn more profits, which in result creates a bad image of the product. To avoid this situation, more efforts are required from responsible and reputed manufacturers to make this market organised by standardisation of quality and product specifications. It will help the market as a whole to protect the interest of the consumer and manufacturers. On one side, consumer will get the quality product at a competitive price and on the other side reputed manufacturers can practice their business in a good atmosphere as most of the companies who are compromising on quality will eventually have no place in the market.